Polycarbonate Sheet Wide 1505mm x 2T x Order Length
$83.00 – $1,245.00 N/A
Whether you are building a patio, deck, carport or adding in an external feature wall or wind break, we have the range of products and the knowledge to help you along the way.
Roofing and cladding for architectural projects, commercial premises, mining, skylights for warehouses, non-corrosive materials for seaside living or corrosive environments, greenhouse materials, agriculture or livestock enclosures.
Description
Polycarbonate Sheet Wide 1505mm x 2T
From Wikipedia – "Polycarbonates (PC) are a group of thermoplastic polymers containing carbonate groups in their chemical structures.
Polycarbonates used in engineering are strong, tough materials, and some grades are optically transparent.
They are easily worked, molded, and thermoformed. Because of these properties, polycarbonates find many applications.
Polycarbonates do not have a unique Resin identification code (RIC) and are identified as "Other", 7 on the RIC. Products made from polycarbonate can contain the precursor monomer bisphenol A (BPA). Polycarbonate is also known by a variety of trademarked names, including Lexan, Makrolon, and others."
Normally, because of its strength and transparent, it is used for high impact areas such as bulletproof windows in banks.
It can be injection molded so so many areas it is used for.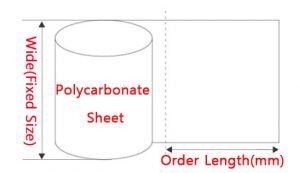 Additional information
| | |
| --- | --- |
| Weight | N/A |
| Dimensions | N/A |
| Length(m) | 1000mm, 1500mm, 2000mm, 2500mm, 3000mm, 3500mm, 4000m, 4500mm, 5000mm, 5500mm, 6000mm, 6500mm, 7000mm, 7500mm, 8000mm, 8500mm, 9000mm, 9500mm, 10000mm, 11000mm, 12000mm, 13000mm, 14000mm, 15000mm |
| Sheet Color | Clear, Brown |